Production
Our options
Option 1 :

1 boom microphone
1 Sound Devices 663 / Zaxcom Zax-Max recorder
Option 2 :

1 boom microphone
2 lavalier microphones Zaxcom ZMT3-X
1 Sound Devices 663 / Zaxcom Zax-Max recorder
Option 3 :

1 MS Stereo boom microphone
2 lavalier microphones Zaxcom ZMT3-X
1 Sound Devices 663 / Zaxcom Nova recorder
1 wireless Camera Hop
1 timecode sync box + 1 slate
Option 4 :

1 MS Stereo boom microphone
4 lavalier microphones Zaxcom ZMT3-X
1 Sound Devices 663 / Zaxcom Nova recorder
1 wireless Camera Hop
1 timecode sync box + 1 slate
1 IFB listening system (director)
Option 5 :

1 wireless boom microphone
6 lavalier microphones Zaxcom ZMT3-X
1 Sound Devices 644 / Zaxcom Nova recorder
3 wireless Camera Hop
1 timecode sync box + 1 slate
3-6 IFB listening system (director, script, production)
Option 6 :

2 wireless boom microphones
7-12 lavalier microphones Zaxcom ZMT3-X
1 Sound Devices 644 / Zaxcom Nova recorder
1 Sound Devices CL-12 / Zaxcom Nova Oasis mixer
4 wireless Camera Hop
2 timecode sync box + 1 slate
1 sound kart + long range antenna
4-10 IFB listening system (director, assistant director, script, production)










Post Production
Our expertise
Audio editing

Synchronization of sound to picture from the material recorded during production. Assembling dialogues, room tones and sound effects from the shoot or a sound bank.
Post-Synchronization

Recording of sound effects and foley creation. Re-recording of actors' voices and voiceover.
Dubbing

Re-recording voices for film translation in other languages. Subtitling service available.
Audio mixing

Calibration of the different audio sources (dialogue, SFX, foley, room tones and music) in order to harmonize their amplitude.
Mastering

Mastering stereo or multi-channel (5.1). Equalization, calibration of multiband compressors and expanders, adding reverb. Encoding and transfer of the audio tracks to the final support.





Audio Repair
Audio Repair Service
Are you currently struggling with audio issues on your production shoot? We are offering a new service of audio repair.
Removing unneeded sounds: clicks, crackles, hisses and distorsions
Equalizing frequencies, levels, tones and pitch
Plug-ins to calibrate the loudness (broadcasting standards)
Ambiance layout and conception
Izotope spectral repair and reverb removal
Re-sampling to eliminate artifacts and re-mastering

You are a film director or editor and you are struggling or having issues with audio quality or have a occurred a production sound problem, we are here to help!

Send us your audio files: prod@departementduson.ca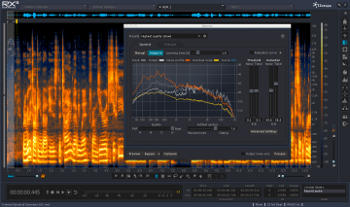 Events
Our expertise
Sound system

Equipment rental, installation of audio system, sound check of the venue and mixing for the duration of the event.
Recording & Broadcasting

Multitrack audio recording of the event. Editing and stereo mix or 5.1 for distribution on any supports: web, CD, DVD, etc.
Mixing

Processing of the sound captured during the recording with the listening conditions of a recording studio.