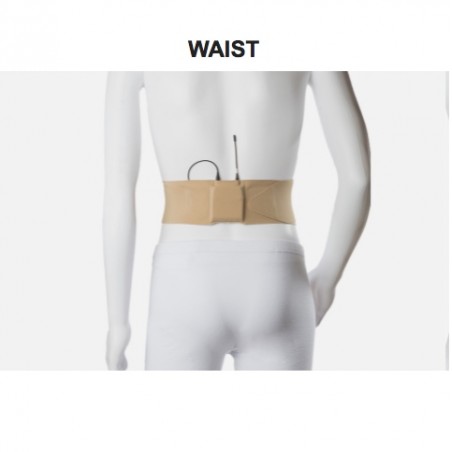  
Strap - Waist (Viviana)
Waist transmitter strap. Breathable, comfortable, ultra thin and discrete. Water resistant.



The Waist Belts from Viviana Straps is a wireless transmitter belt designed for safely securing and concealing wireless transmitters on talent for film, television and many other live productions. These straps are made from an amazingly slim, breathable, and soft fabric made in Italy making these the safe & comfortable way to let talent wear your transmitter. These provide excellent stretch, comfort against the skin and breathability with an outer surface that the low-profile velcro can attach to at any point. The waist strap is available in XS, S, M, and L in either black or beige.
FEATURES
VELCRO: Each model has ultra-low profile Velcro with an amazing grip and invisible overlap.
DOUBLE CABLE POUCH: Our double cable pouch lets you tuck in the cable very quickly so you don't waste time searching for it when rushing on set.
UNIVERSAL TX POUCH SIZE: You can use all the main transmitters in today's market. The gauze fabric of the pocket is in contact with the skin, therefore sweat humidity won't reach the transmitter.
COLOR CODED: Each strap has a corresponding color tab sewn into it so that you can easily pick out the size/model you need straight from your kit without having to pull them all out to find the size you need.